What is Synchronized Skating?

"Synchronized skating is a popular discipline both within U.S. Figure Skating and around the world. Synchronized skating is a team sport in which 8-20 skaters perform a program together. It uses the same judging system as singles, pairs and dance and is characterized by teamwork, speed, intricate formations and challenging step sequences. Elements in synchronized skating include blocks, circles, wheels, lines, intersections, moves in the field, moves in isolation, no-hold blocks, spins and pairs moves. The variety and difficulty of elements require that each team member is a highly skilled individual skater. The typical senior-level athlete has passed a senior or gold test in at least two disciplines."
Courtesy of USFS

Click for the: United States Figure Skating Synchro Media Guide

What is Chesapeake Synchronized Skating?

Chesapeake Synchronized Skating is an organization that evaluates individual skaters based on their age and skill level and places them on a team of similar athletes to learn the art and sport of synchronized skating. Chesapeake Synchro currently fields five teams: the Chesapeake Captains, the Chesapeake Sailors, the Chesapeake Skipjacks, the Chesapeake Topsails, the Chesapeake Firstmates. The teams practice at Ice World in Abingdon, MD, just a short drive North of Baltimore. The club is recruiting for an adult team, the Chesapeake Admirals.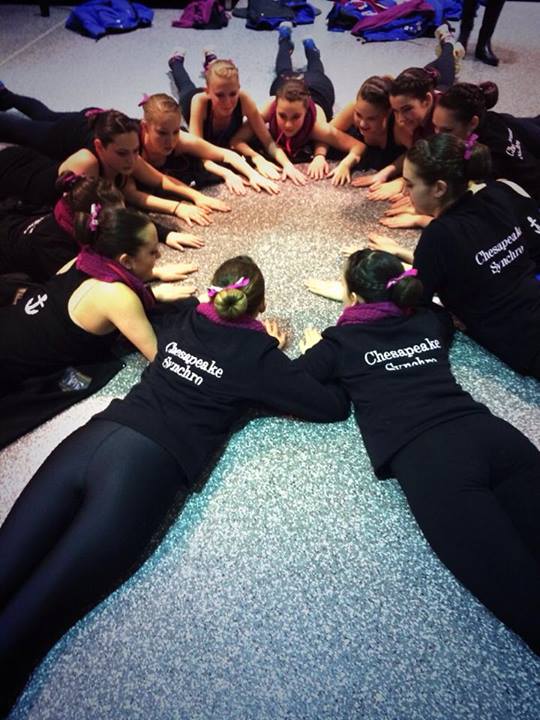 Questions? - Please contact the head coach Lauren Benesch
coach@chesapeakesynchro.com